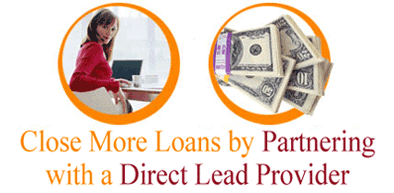 5 Reasons Mortgage Brokers Should Buy Bad Credit Leads
Of course, not all leads that mortgage companies buy will pan out, so we wanted to focus on turning the bad credit leads also known as lemons into lemonade. Did you know that nearly 20% of the mortgage loans that have been originated in the US since 2004 were done using bad credit mortgage products? After the subprime crash, many mortgage brokers wrote off this segment as too risky. But even today, almost 25% of American borrowers have FICO scores that put them in the subprime category. There is money to be made in this sector. Many of our clients have been successful converting bad credit leads and they all had a plan to maximize revenues. In 2020, more and more mortgage companies are monetizing the leads they buy, especially the prospects who have poor credit.
And some smart mortgage brokers have continued to stay profitable with bad credit mortgage leads. How are they able to continue to make solid profits with bad credit leads in this market? Simple. They have a reliable stream of bad credit mortgage leads that they buy from reputable mortgage marketing lead companies. These leads for subprime buyers ironically can be some of the best leads for mortgage out there. Here's why they are a good bet: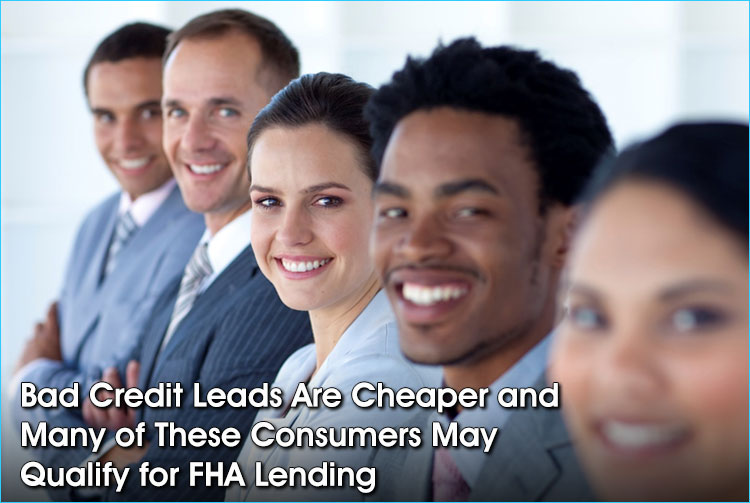 #1 The US Government Caters to Bad Credit Buyers
The conventional wisdom is that the subprime mortgage market dried up after the mortgage meltdown. For a while, it did. But the subprime market is back quite strongly. Even after the subprime crash, the US government still has many mortgage programs for buyers with mediocre to bad credit. The reason is simple: The US economy is dependent upon a robust housing sector to grow. So much economic activity in the US economy depends upon residential housing. If only top credit buyers qualify for a mortgage, the US housing market would be in serious trouble.
Consequently, the federal government has many mortgage options available for people with poor credit. For example, the Federal Housing Authority (FHA) offers very flexible financing options for subprime borrowers. The FHA guarantees the loan and mortgage lenders are much more likely to lend more to these borrowers. These types of programs make bad credit mortgage leads a good bet because many of these borrowers can be financed.
#2 Many Low Down Payment Programs Available
It is a myth that a borrower must have a 20% down payment to get a mortgage. The federal government through FHA has 3.5% down payment loans available, and there are also many 3% down loans available on the conventional market. These low down payment loans are available to people with 640 to 680 FICO scores, so people with average credit can get approved. Someone with a credit score as low as 620 can in some cases get a mortgage approval for a 3.5% down loan. So smart mortgage brokers buy these bad credit mortgage leads knowing that some of the borrowers will qualify for low down payment help.
#3 Bad Credit Borrowers Buy Credit Repair Services
Many brokers have connections to good credit repair services, and you can help many of these bad credit borrowers with credit repair assistance. This is another good revenue producing stream for your business. So, keep buying those mortgage leads for bad credit borrowers and you can sell them both credit repair and a mortgage. Credit Repair Leads
#4 Bad Credit Borrowers Are Loyal
Having bad credit in modern America makes life difficult. It is hard for these people to get car loans, credit cards, and of course, mortgage loans. It can even be hard for them to rent an apartment. If you are able to help a bad credit borrower feel like he can get a mortgage, he will be very loyal to you. On the other hand, a borrower with a 750 credit score may just pit you against five other brokers and try to score the lowest possible rate for themselves.
#5 More Referrals
People with bad credit are very appreciative when a mortgage lender grants them a mortgage. Many of them have been stuck paying rent for years and years. If they are able to finally get into a home of their own and you help them do it, they will probably give you a lot of good referral business. As we all know, referrals are much easier to get into mortgages. How Lenders Can Better Use Mortgage Leads from People with Bad Credit
Many mortgage brokers only concentrate their business on the best borrowers. Getting mortgages approved for people with top income and credit is easy. However, there is a tremendous amount of competition for those borrowers. Meanwhile, people with bad credit have fewer brokers competing for their business. You may have to do more homework and leg work to get them approved, but you have less competition. And when you are able to get that borrower approved, you will have a very grateful client who is very likely to send you more business. Therefore, buying bad credit leads can be a very profitable enterprise. You should strongly consider making bad credit borrowers a major part of your mortgage business.

Recent Articles: