Secrets to Buying Refinance Mortgage Leads Online
The mortgage refinance business continues to prosper in 2019, as interest rates have moderated in recent months. Home prices also are rising, and more Americans want to tap their equity. So, mortgage companies that want more business are looking increasingly at the mortgage refinance market. A key part of that business strategy is getting mortgage refinance leads.
Purchasing the best mortgage refinance leads online is critical for successful mortgage loan originators. But there are many online refinance mortgage lead companies out there, and they vary greatly in quality. How good those mortgage leads are also can vary. If you plan to buy refinance mortgage leads in 2019, there are some important secrets to get the best for your money.
To assist you, we have compiled the best tips for buying high quality refinance mortgage leads:
#1 Consider Exclusive Mortgage Refinance Leads
When a mortgage loan originator buys their leads, there is a choice between exclusive and shared leads. There is a business case to be made for shared leads: They are cheaper of course, but the lower prices mean you are competing with other mortgage companies.
Exclusive mortgage refinance leads are sold just to you. They are easier to close because you will not have to compete head to head with anyone else. But it is important to check carefully with the mortgage lead company. Be certain that you are getting exclusive leads if you are paying for them. They are considerably more expensive than shared leads, so you want them to truly be exclusive.
It is wise to check with other loan originators that used that company and whether they were truly exclusive or not. Remember, some mortgage lead companies will share a lead with a dozen other companies. Your chances of converting the lead are miniscule, so consider spending the extra money on an exclusive lead.
#2 What Is the Return Policy
A key issue for any type of mortgage lead you purchase is what the return policy is. The best online mortgage lead companies provide a solid return policy. The company should have a high level of confidence in their leads and therefore do not have many returned. If your online mortgage lead company does not have a good return policy, it is proper to question the quality of their leads. Consider getting them elsewhere.
#3 Where Did the Refinance Leads Come From?
A lot of mortgage refinance leads come in online, from TV, telemarketing and even direct mail. You may be paying for mostly leads that come in through websites. These can be good leads and certainly, that is how most people today express interest in getting a mortgage.
But a lot of good leads actually are obtained by detailed telemarketing campaigns that are performed by well-trained sales representatives. These companies can work with you to create a good sales script that can be used to attract the best mortgage refinance prospects.
#4 Always Follow Up with Your Leads
No matter how high quality your mortgage refinance leads are, you will never be successful in the loan origination business if you do not follow up closely with all leads. You would be amazed, but there are some originators out there who pay for leads and do not follow up with the contact after the first phone call!
Statistics prove that most mortgage lead contacts are not reached until at least the fourth or fifth phone call. If you only call the lead once or twice, you are very likely to have wasted your money on that lead.
Also, do not be like many loan originators and only call your refinance leads during business hours. You should try to call your leads in the evenings, and even better, call them on Saturday and Sunday. Many mortgage loan companies take the weekends off. If you make calls on the weekend, you are certainly facing less competition.
If you are going to purchase online refinance mortgage leads in 2019, the above secrets will help you to maximize your marketing dollars.
#5 Buy Online Mortgage Refinance Leads Direct
Whichever mortgage lead firm you use, always ask how they obtain their refinance leads. Some companies have their own processes for acquiring leads directly. But there are companies that essentially are a middleman and purchases their online refinance leads from other companies. The leads are marked up and resold. Usually, the leads are sold to a lot of mortgage companies.
To spend your marketing dollars most efficiently, we recommend that you buy all leads direct. You will always have a higher chance of converting your mortgage refinance leads online into sales if you have direct leads.
The bottom line is, the mortgage refinance business is booming with low interest rates and rising equity levels. Use the tips above to buy the best online mortgage refinance leads today.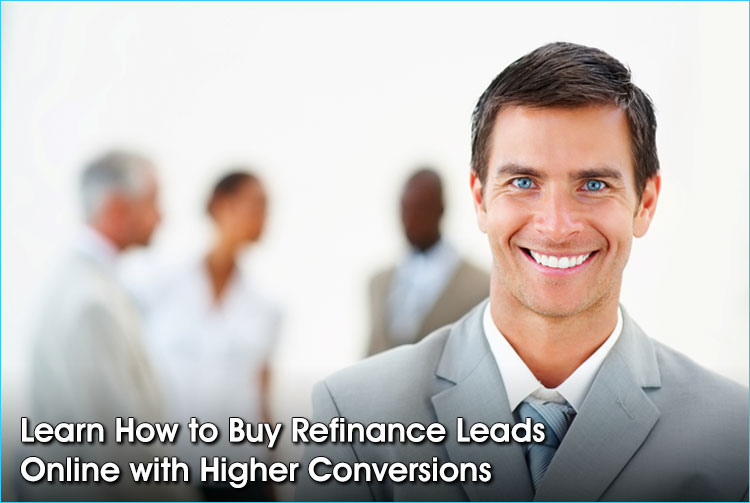 Why the Refinance Mortgage Market is Not Dead in 2019
In 2019, current interest rates continue to be low. If you did not have a chance to refinance your home in 2018, you still may be able to get a low rate mortgage. If you drop your interest rate in a refinance 1% from 5.25% to 4.25%, you will 10% more of your money back in your pocket every month.
This means every $1000 you are paying your mortgage lender right now, you can cut your payment but up to $100. That is 12k that you will save in the next decade, and all you have to do is a refinance. There are still millions of homeowners today who may be able to do a refinance, and you still could be one of them.
Even though rates did pop up last year, they are still hovering near 4% for conventional and FHA interest rates. You might think more homeowners would be going out to refinance their properties, but many people are still not refinancing.
They should note that some economic experts are predicting a slowdown in economic growth in mid-2019 that will cause the Fed to stop increasing rates in June 2019, so there could be even more rate drops coming.
Should You Refinance This Year?
Any time mortgage rates drop in a significant way, homeowners will ask if they should do a refinance. Low mortgage rates are always enticing. But the typical homeowner wants to be sure that is worth the cost for the lower interest rate. It is understandable to be leery of refinancing after the mortgage problems of 2008 to 2012. Getting approved for your mortgage refinance is a lot easier than it was.
Of course, you will probably ask the question if it makes financial sense to do the refi? In this area, you would be wise to ignore the common knowledge you hear about mortgage rates because some of the most common arguments heard against a refi could be misleading.
The major argument you could hear is it is illogical to refinance unless you are dropping your mortgage rate by 1% or more. The other is that it does not make sense to do a refinance if you plan to move before your loan is going to reach the breakeven point.
The One Percent Fallacy
Saving 1% on your mortgage rate is old thinking when closing costs were much higher and mortgage loan sizes were small. People also lived in their homes their entire lives. Back at that time, a mortgage loan was often less than $60,000, and the homeowner would need to lower the rate by a point to save $1000 per year. But with the loan sizes we have today, many refinancing homeowners can save as much as six times that amount.
Do You Need to Recoup Your Closing Costs?
Another reason many Americans do not refinance is they think the closing costs will never be recouped. They are relying on an old approach that is called the Break-Even Method, which is often quite flawed. In the breakeven method, there are three major assumptions: that you will never want to do a refi again; you will never need to refi your home again; and you will never need to sell or move. Consider buying exclusive-mortgage leads.
Should You Refinance This Year?
There are many strong reasons to consider a refinance this year:
Mortgage rates are around 4% and there are many older mortgages out there that are at much higher rates.
Home prices and equity is rising, so you have more ability to do a cash out refinance and get the cash you need for that home renovation or college education.
You also can opt for a zero-cost refinance and wrap the closing costs into the mortgage.
Rising FHA Conforming Loan Limits Give Homeowners More Options
If you are buying or refinancing a home in the US, you may wish to consider the FHA program (HUD.gov). This great mortgage loan option provides people with average credit the chance to buy a home. And, FHA has been raising the limits across most of the US for homes that you can buy with FHA loans. This means more renters have the chance to own their dream home with an FHA loan.
For example, in California, here are the 2019 FHA conforming loan limits for many top counties: (HUD.gov)
Alameda: $726,525
Contra Costa: $726,525
El Dorado: $552,000
Mendocino: $409,400
Orange: $726,525
Riverside: $552,050
Sani Benito: $930,000
San Francisco: $726,525
Another higher placed area of the US where you can use an FHA loan to buy or refinance is Washington state. Loan limits have been rising in this area too: (HUD.gov).
Clallam: $384,100
Clark: $474,950
King: $726,500
Kitsap: $363,000
Pierce: $725,525
Skamania: $474,950
Snohomish: $726,525
Spokane: $314,827
With lower interest rates, rising home prices, and higher FHA and conforming limits, more home buyers and refinancers should have options this year to buy or refinance their homes.